This article addresses the two ways you can change your Plum account password, and the basic troubleshooting if you are having difficulties resetting your password.
There are two ways that you can change your password.
1) Change your password from inside your Plum account:
i. Log into Plum at https://secure.plum.io/login
ii. Navigate to About Me, under My Plum.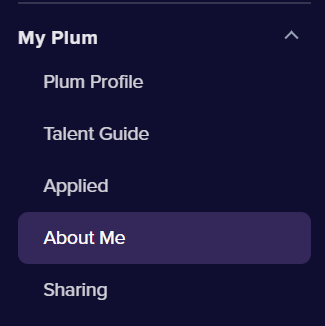 iii. Click Change Password located under your name
Ensure that the password you chose:
Is at least 8 characters long
Includes both letters and numbers
Is not a generic word, such as "password"
Is not your email address
2) You forgot your password and you wish to reset it
If you forgot your password or you wish to reset it, you can do so by entering your email address here. You will receive an email with a link to reset your password.
3) If you are unsuccessful at resetting your password or logging in, kindly follow these troubleshooting steps:
i. Do you have a Plum account? You will only receive the reset password email if you have an existing Plum account with the email you entered.
ii. We recommend using Google Chrome as your browser, in its most updated version. This ensures the ultimate platform performance, hence the performance of the reset password function.
iii. Delete your Google browser history and cache, and close your browser windows.
iv. Paste this link in your browser: https://secure.plum.io/en/reset
v. Enter your email address, reviewing it to ensure there is no typographic error.
vi. Please consult your email inbox as well as your SPAM folder for an email from no-reply@plum.io titled "Password reset for Plum"
vii. If you still have not received your password reset email after these steps, we recommend trying steps 2 to 6 with a different browser (Firefox, Edge or Safari) or a different computer/device to see if you are successful. Depending on your browser, certain plugins or add-ons can affect the performance of the password reset function.

If you manage resetting your password but that you cannot successfully login, we invite you to consult the following article: