Plum aims to continuously improve your experience by rolling out new features and product enhancements. Below, you will learn about the way we collect feedback to make our product better.
Plum takes feedback very seriously. We believe that listening is the best way to build a better product. Feedback is critical to discovering the right opportunities for Plum to create additional value for our users and customers. We are committed to listening to our customers, team members, and prospects, and bringing their ideas and voices into the projects we invest in.
Our feedback program ensures your voice is heard, and that you have a direct and visible impact on where our product is heading and the features which we implement. You'll receive feedback on your ideas from our Product Team and be able to understand our decision-making process. In short, you'll be intrinsically linked to the development of Plum. And that means a better product for everyone.
How can I submit feedback?
If you have a product suggestion or an idea about how a feature could be improved, we'd love to hear more! Please note that the feedback program is currently only available to Plum customers and their employees.
Submitting feedback is quick and simple. Please note that your feedback will appear as anonymous to other users. Your name will only be visible to Plum staff.


1. Log in to Plum and navigate to the Resource Center on the left side navigation bar.
2. Click on Share Your Feedback.
3. Click on Make a Suggestion.
4. Type in your feedback in the available form. The more information you can provide, the better. If required, you can upload files to help make your suggestion clearer. Click on Open in Portal for a smoother navigation.
5. Click Submit when you are finished.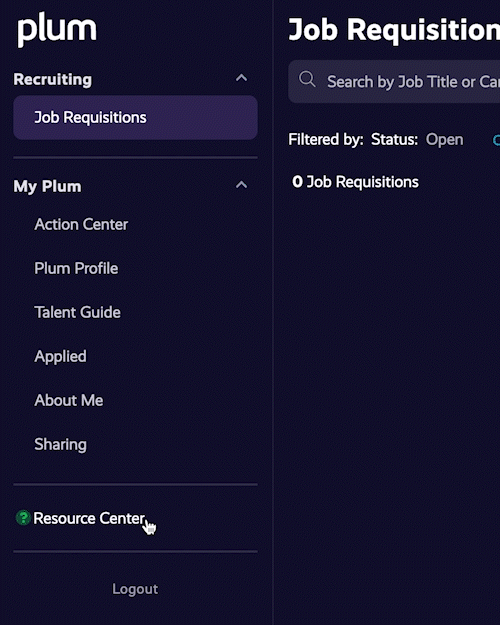 How can I vote on other users' recommendations?
On the Share your feedback page, you can scroll down to see what other users have suggested. You can vote for others' suggestions by hitting the I Want This (Thumbs up) button. You'll receive an email update whenever a new comment is added to that suggestion thread, or when its prioritization status has changed.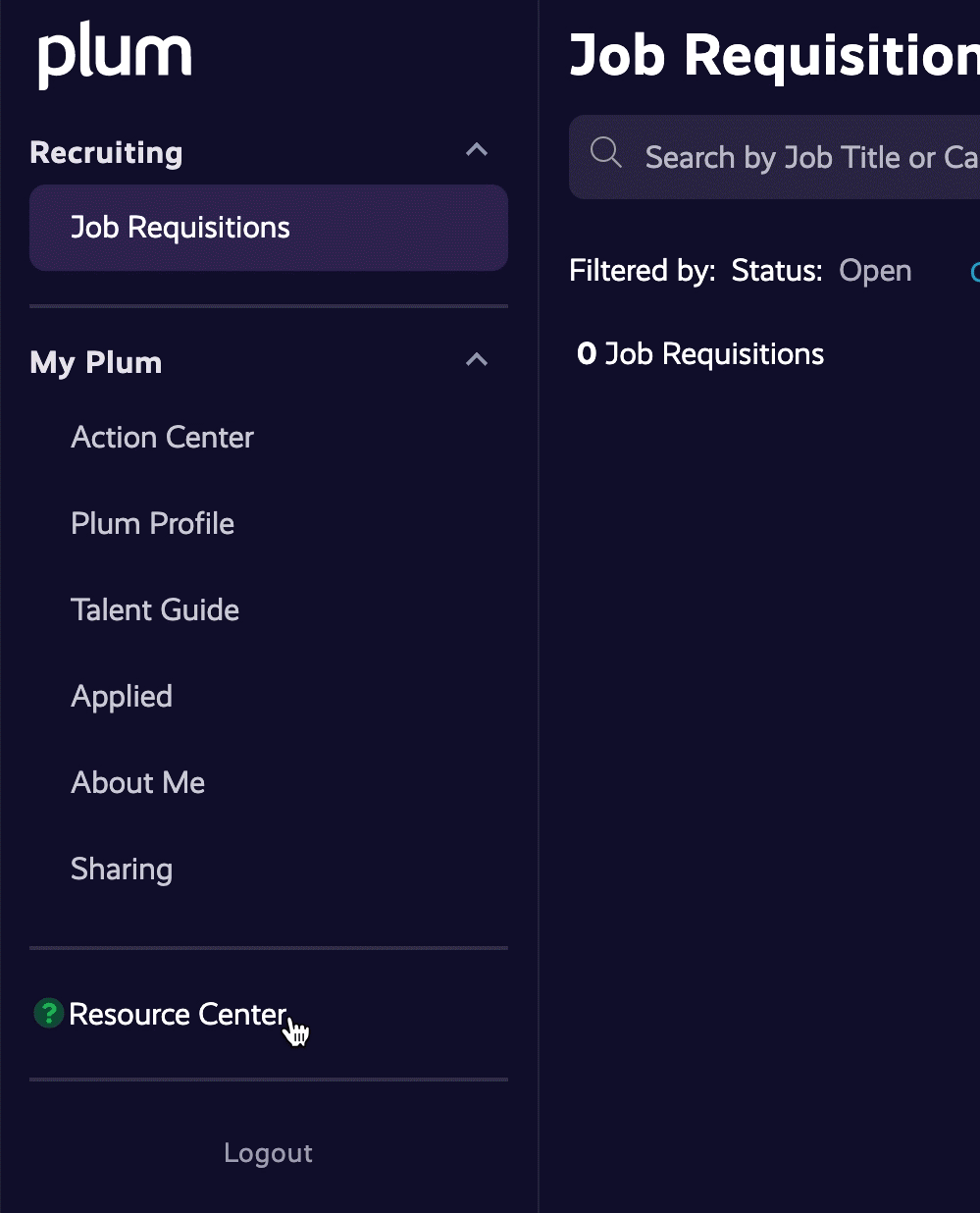 How can I provide the most useful feedback?
Make your title concise, yet descriptive.

 This will help others find and upvote your feedback. If possible, write your feedback in English.

Explain what your goal is.

 What problem are you trying to solve with your suggestion? Our Product Team members are experts at troubleshooting and problem-solving with Plum. We may be able to help you find a feature or a solution that already exists!

Provide additional context.

 Add a comment with additional information. For example:

Why do you need this?

W

hat are you trying to accomplish?

What is it stopping you from doing?

What is the impact of that?

Attach screenshots to help us see what you're experiencing!

Tell us about any workarounds.

 How are you currently getting around or solving this problem?

Prioritize your own requests too!

That way, we will know if a particular request is important to you.

Refrain from posting personal information.
What happens when I submit feedback?
New feedback is reviewed within 5 business days by a member of the Product Team to ensure it's not already an existing feature or something we can help you with straight away. Then, it will be moved to "Open for Voting" to gauge demand from other users and team members.
Our Customer Success, Support, and Product Teams meet periodically to review suggestions. We discuss the highest priorities for our customers, team members, and prospects, and look at how the feedback aligns with our product and company strategy. At which point, we may reach out to ask follow-up questions or even arrange a call to discuss your specific use case or problem further. Then, we track those suggestions for a while to see which ones receive more support.
Once the feedback has been reviewed, the status of it will change accordingly, and you'll be made aware of any status changes and progress. 
How will I be updated on progress?
When you submit feedback or vote on other people's ideas, you'll automatically start to receive notifications about the features you've expressed an interest in. These will come from feedback@plum.io.
You'll be notified when:
Your request is initially reviewed.

Items you vote on are reviewed, updated, or released.

Comments are added to suggestions that you've submitted or voted on.
If you don't want to receive notifications, then click on the Manage Email Preferences link in the footer of any emails you receive from Pendo.
If you reach out directly to our Support and Customer Success teams, they'll be able to look up ideas for you, but they won't have any additional information or be able to provide an estimate for when your request will be reviewed. 
What do the different statuses mean?
As ideas are prioritized, the selected status of each suggestion may change over time. The table below explains what each status means.
| | |
| --- | --- |
| Status | Meaning |
| Not Reviewed | Your suggestion has been received and will be reviewed by someone from the product team in the next 5 business days. |
| Open for Voting | Your suggestion has been received and is being stored while we gauge demand from other customers. |
| Interviewing Users | We are looking to interview people who are very familiar with the request. |
| Building | Our engineering team is currently building this feature. |
| Released | We have released a solution for this. Please see the status message comments. |
| Declined | This request has either already been addressed, is not aligned with our goals and strategy, or wasn't clear enough to consider. Please check the status message comments for more information. |
Thank you for your feedback, understanding, and support as we work together to build the best solutions possible!